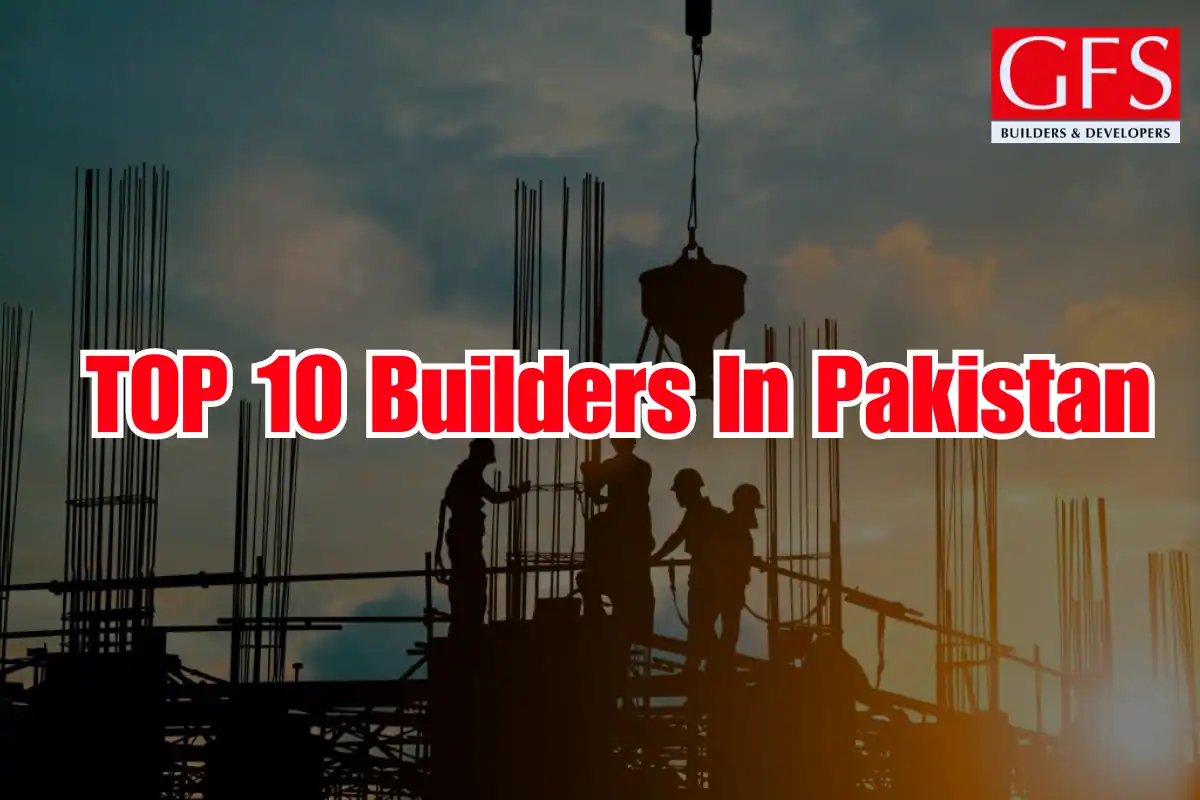 TOP 10 BUILDERS IN PAKISTAN
Pakistan's architectural landscape is witnessing a remarkable transformation courtesy of the top builders in Pakistan. 
All these builders leave a lasting impact on the cityscape by reshaping the way to experience the best in our living, working, and recreational spaces with exceptional skills, ideas, and dedication to excellence.
From the bustling metropolis of Karachi to the luxurious enclaves of Bahria Town, these builders have created iconic structures that epitomize architectural brilliance. In this article, we will work on the top builders in Pakistan. 
Now we will uncover their impressive projects, their leading influence on all the major cities in Pakistan, especially Karachi, and the key factors that have catapulted them to the forefront of the construction industry.
Join us on this exciting journey as we unveil the visionaries shaping Pakistan's urban fabric and leaving an enduring legacy for generations.
List of Top 10 Builders in Pakistan:
GFS Builders & Developers
DHA Builders
Bahria Town
Emaar Pakistan
Habib Construction Services
Paragon Constructors
Tameer Construction
Fazaia Housing
Park View City
Al Ghurair Giga
GFS Builders & Developers:
Karachi, the bustling metropolitan city of Pakistan, has witnessed rapid growth in its real estate sector. Among the top builders making their mark in this dynamic landscape are GFS Builders and Developers.
GFS Builders has gained the trust and admiration of clients in the construction industry through their unwavering dedication to quality, innovation, and ensuring customer satisfaction.
GFS Builders and Developers embarked on their journey to create architectural marvels that redefine modern living in Karachi. With a team of experienced professionals, architects, and engineers, GFS Builders has consistently delivered projects that blend functionality, aesthetics, and sustainability.
One of the distinguishing factors of GFS Builders is their unwavering commitment to quality construction. From selecting high-grade materials to implementing the latest construction techniques, GFS Builders ensures that every project meets international standards. 
They are the best builders In Karachi, prioritizing quality assurance at every stage, from planning and design to execution and handover.
DHA Builders:
Defence Housing Authority (DHA) is renowned for its master-planned communities, offering state-of-the-art amenities and a secure living environment. DHA Builders have become synonymous with quality and reliability with its presence in major cities like Karachi, Lahore, and Islamabad. Notable projects include DHA Karachi Phase VIII and DHA Lahore Phase VI.
Bahria Town:
Bahria Town, a name synonymous with luxury and opulence, has transformed the real estate landscape in Pakistan. With its flagship projects in Lahore, Karachi, and Rawalpindi, Bahria Town offers gated communities, world-class infrastructure, and unmatched facilities. Bahria Town Karachi has gained significant popularity, boasting a plethora of residential and commercial projects.
Emaar Pakistan:
Emaar Pakistan, a subsidiary of the renowned Emaar Properties, has introduced groundbreaking projects nationwide. The iconic Crescent Bay in Karachi and Canyon Views in Islamabad are testimony to Emaar's commitment to delivering exceptional living experiences. Emaar Pakistan continues to raise the bar with its innovative architectural designs.
Habib Construction Services:
Habib Construction Services (HCS) is among the prominent players as Top builders in Pakistan in the construction industry. They are known for their expertise when discussing commercial and residential projects. The company's portfolio showcases diverse projects, spanning from magnificent high-rise buildings to exquisite luxury villas.
HCS has earned a solid reputation for its commitment to delivering top-notch craftsmanship and completing projects on schedule. Examples of their work include the remarkable Habib Heights in Karachi and the stunning Habib Square in Lahore.
Paragon Constructors:
Paragon Constructors has gained recognition for its infrastructure development and commercial projects expertise. With a focus on sustainable and eco-friendly practices, Paragon Constructors has successfully executed projects such as Paragon City in Lahore and Paragon Towers in Karachi, offering modern living and business spaces.
Tameer Construction:
Through innovative projects, Tameer Construction has made significant contributions to Pakistan's real estate sector. Focusing on affordability and contemporary designs, Tameer Construction has transformed the housing landscape in cities like Lahore, Islamabad, and Karachi. Notable projects include Tameer Towers in Lahore and Tameer Commercial as the top builders in Karachi.
Fazaia Housing:
Fazaia Housing is a reputable builder known for its housing schemes designed exclusively for the Pakistan Air Force. These projects are also open to the general public, offering secure and affordable living options. Fazaia Housing projects exist in major cities, including Karachi, Lahore, and Islamabad.
Park View City:
Park View City is highly regarded in the real estate industry for its prestigious residential projects that cater to discerning individuals. 
With a strong emphasis on delivering luxurious living spaces and exceptional amenities, Park View City has successfully established an atmosphere of elegance and comfort in cities such as Lahore and Islamabad. 
Residents of Park View City can enjoy the serene ambiance of gated communities, surrounded by lush greenery and benefiting from modern and top-of-the-line infrastructure.
Al Ghurair Giga:
Al Ghurair Giga is a prominent builder with a strong presence in Islamabad and Lahore. The company has introduced numerous residential and commercial projects, including Goldcrest Mall & Residency in DHA Islamabad and Defence Raya Golf Resort Apartments. Al Ghurair Giga is committed to delivering excellence in design, construction, and customer satisfaction.
These top 10 builders in Pakistan have played a pivotal role in transforming the nation's architectural landscape. From master-planned communities to luxurious high-rises, they have redefined the concept of modern living.  These builders are actively shaping the future of top builders in Pakistan, driven by their unwavering dedication to quality, innovation, and ensuring customer satisfaction.
Impact of the Top Builders on Local Economies
Construction industry holds a crucial position in stimulating economic growth and development, and the leading builders in Pakistan are key contributors to the local economies in which they operate.
Their projects transform the physical landscape and have far-reaching effects on employment, infrastructure development, and investment opportunities. In this section, we explore the profound impact of the top builders on local economies across Pakistan.
Job Creation:
The construction sector is known for its labor-intensive nature, providing employment opportunities to a vast workforce. The top builders in Pakistan generate a substantial number of jobs during the construction phase of their projects. 
These employment opportunities span a broad spectrum, encompassing skilled professionals like architects, engineers, project managers, and unskilled laborers who contribute to various construction tasks.
The employment opportunities provided by the top builders have a direct and positive impact on the local communities, reducing unemployment rates and improving the standard of living.
Economic Multiplier Effect:
The construction industry has a ripple effect on the economy, leading to increased economic activity in related sectors. 
When renowned builders take on extensive projects, it generates a significant demand for raw materials, equipment, and services, driving growth in industries such as cement, steel, manufacturing, transportation, and hospitality.
This multiplier effect boosts economic growth, generates additional jobs, and enhances business opportunities for local suppliers and service providers.
Infrastructure Development:
Top builders in Pakistan are at the forefront of infrastructure development, which is crucial for economic progress. 
Their endeavours frequently encompass constructing vital infrastructure such as roads, bridges, utilities, and other essential components.
These developments enhance connectivity, facilitate trade and commerce, and attract regional investment. Improved infrastructure also increases property values, attracting businesses and stimulating economic growth.
Attraction of Foreign Direct Investment (FDI):
Top builders' reputation for delivering quality projects attracts foreign investors who see the potential for returns on their investment. 
Foreign direct investment (FDI) plays a vital role in driving economic growth as it brings in capital, technology, and expertise that can invigorate various sectors of the economy, fueling their development and expansion.
The presence of renowned builders and their successful projects is a confidence booster for foreign investors, encouraging them to invest in the local real estate market and other sectors.
Revenue Generation:
Real estate developments by the top builders contribute significantly to local and national tax revenues. The construction industry and its associated sectors contribute to generating miscellaneous taxes, including sales, property, and income taxes.
The revenue generated from taxes is used by the government, majorly being invested in public services, advancing infrastructure development, and social welfare programs. This contributes to the overall well-being and prosperity of the local population.
Social Development Initiatives:
Many top builders in Pakistan actively engage in corporate social responsibility (CSR) initiatives that directly impact the communities where they operate. 
They allocate resources toward enhancing educational institutions, healthcare facilities, community centers, and other projects aimed at social development. By doing so, they significantly improve the quality of life for residents and make a positive social impact. 
These initiatives uplift the communities and foster overall well-being and inclusivity within the local economies.
Parting Words
Top 10 builders in Pakistan have redefined the real estate landscape with their commitment to quality, innovation, and customer satisfaction.
Builders in Bahria town Karachi, their impressive projects have transformed how people live and work. Whether your preference is luxurious living or affordable housing, these builders provide diverse options to cater to various needs and preferences. 
As Pakistan's urban centers experience ongoing growth, these builders will undoubtedly profoundly influence the future of the nation's architecture and infrastructure.
Who is the No 1 builder in Pakistan?
GFS Builders is considered the number one builder in Pakistan due to its large-scale, award-winning projects across major cities, use of modern technology, strong financial performance, and reputation for high-quality and sustainable construction standards.
Which is the biggest construction company in Pakistan?
Habib Construction Services and GFS Builders are two of the largest construction companies in Pakistan. With 14+ years experience in major infrastructure and energy projects, Habib Construction is an industry pillar. GFS Builders is a leading developer of large-scale, award-winning residential and commercial projects across all major cities. Both boast extensive expertise and resources to undertake complex construction projects nationwide.
What factors should I consider when buying a property from these builders?
Consider factors such as location, amenities, quality of construction, legal documentation, and future growth potential. It's also advisable to consult with real estate professionals or lawyers to ensure a smooth transaction
Can I invest in projects by these builders for potential returns?
Investing in real estate projects by reputable builders can be a sound investment strategy. However, thorough research, market analysis, and consultation with experts are crucial to make informed investment decisions.
Are these builders involved in sustainable and eco-friendly construction practices?
Many of these builders have recognized the importance of sustainability and eco-friendliness. They incorporate energy-efficient designs, green spaces, and environmentally friendly technologies to reduce the ecological footprint of their projects.